Teen Counseling in Manchester NH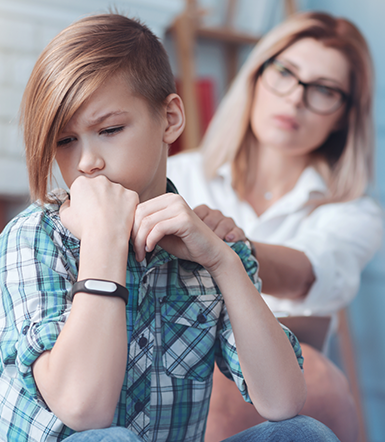 Our Counselors Help Teens Address Emotional Issues and Major Life Changes
Our teen counseling near Manchester NH gives your child the mental and behavioral health services they need to thrive at life. We are Family Counseling Associates and we know counseling a teenager is very different than counseling a young child or adult. Many teens don't feel comfortable speaking with parents, teachers or even their friends about the issues that are affecting them.
Instead, they need an impartial, compassionate person to share their thoughts with and gain perspective within a safe, comforting environment. Our clinical services are provided not only by therapists, but also counselors, psychiatrists, social workers, psychologists and neuropsychologists.
Your child may be a good candidate for individual therapy as part of our teen counseling near Manchester NH. We can discuss this in greater detail at your child's initial visit, but evidence-based psychotherapy has been known to improve teens' feelings of self-efficacy. It also helps strengthen social relationships and helps them function more effectively in their environments.
Family Counseling Associates is located at 360 Route 101, Unit 12B, in Bedford NH, and can be reached at 603-242-2296. Our hours are Monday through Friday from 9 a.m. to 8:30 p.m. 
How We Help Teens Near Manchester NH
While we certainly offer therapy to all ages, from children and teens to adults and seniors, we have many counselors on staff who specifically handle teen issues and concerns.
These may include behavioral and learning disabilities. We also help teens going through difficult life transitions stemming from divorce of parents, bullying, and crises of gender identity. We have an office in nearby Bedford for your convenience. We typically draw on cognitive-behavioral techniques when working with teens but we may also use an integrative approach. Child- and teen-focused individual therapy could include:
Therapies that help them cope with anxiety, anger and depression
Strategies that reduce impulsivity, inattention and hyperactivity
Emotional regulation training
Social skills training
Self-management or coping strategies for more independence
Adjusting to life changes, such as parental divorce or separation
We stress the importance of involving the whole family in teen counseling near Manchester NH when possible. The issues affecting teens rarely stay within those confines, often spilling over into family life. Sibling and parents are an integral part of the healing process in many instances. Mental health disorders, including depression, bipolar disorder and anxiety, not only spur high levels of personal conflict within a teen, but can strain existing familial relationships as well. We will work with parents and guardians through consultations that help you develop positive relationships with your teen, strengthen the family culture and manage particular behaviors.
Other Services
We offer a broad range of mental health services for patients of all ages. Here are some of the overall services we offer:
Family Therapy
Child, Teen, Adult and Senior Counseling
Trauma, Grief and Life Transitions Counseling
Gender Identity Support
Anxiety Counseling
Eating Disorder Treatment for Bulimia, Anorexia and Binge Eating
Depression Counseling
Attention Issues (ADHD and Stress Management)
Mood Disorder Treatment
Psychological Testing and Medication Management
Anger Management Therapy
Make an appointment with one of our licensed therapists, psychiatrists, psychologists, counselors, social workers or psychiatric nurses to learn the best personalized treatment plan for your teen.
To learn more about our teen counseling near Manchester NH, call Family Counseling Associates now at 603-242-2296.
Family Counseling Associates
Address: 360 Route 101, Unit 12B, Bedford NH
Hours: Monday through Friday from 9 a.m. to 8:30 p.m.
Contact: Phone 603-242-2296 | Fax 978-296-3460