Family Counseling in North Andover MA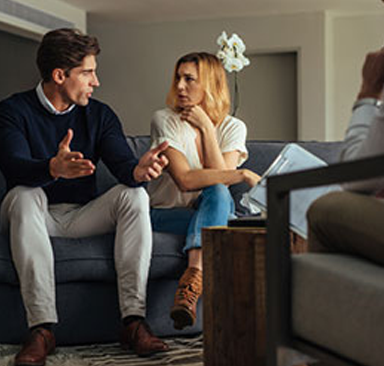 Helping the Family Dynamic Get Going Again
Families, indeed complex entities, require constant adjustment and communication to ensure smooth interaction. We have counselors on staff who can help everyone in your household learn to cohabitate in peace. Here at Family Counseling Associates, our specialty is in our name, as we provide effective, trusted family counseling near North Andover MA. Our counseling center, built on proven mental health care for many throughout the city, gives you and your entire family, immediate and extended, comprehensive care punctuated by high-quality, effective outpatient services. Compassionate care is what we're all about.
Living together isn't easy. We can make it better. We work with families, and individuals within those families, who are struggling with the challenges, transitions and crises of life.
Family Counseling Associates is located at 12 Essex Street in Andover. Call us today at 978-222-3121 for your appointment. Our hours are Monday through Thursday from 9 a.m. to 6 p.m. and Friday 9 a.m. to 5 p.m.
Trusted Family Counseling near North Andover MA
Life is chaotic, stressful and unpredictable, often breaking down families first. When that family unit suffers damage, it can affect everyone within that unit. Mental health disorders like depression, bipolar disorder and anxiety not only bring intense personal conflict, they also place a strain on the family as a whole.
Our licensed counselors, social workers, psychiatrists, psychologists, psychiatric nurses, and therapists work together using safe methods and customized treatment plans to ensure your family unit starts working again as it should.
What We Do
Family Counseling Associates, helping with many different facets of mental health services, targets family counseling near North Andover in particular. Treatment often includes learning more effective interpersonal skills, backed by a change in dynamics that trigger emotional pain and disappointment.
We assist you and your family members in creating more effective ways of dealing with the stress and frustration that come as part of being a family unit. With our family counseling near North Andover MA, we provide these varied services:
Child, Teen, Adult and Senior Counseling
Anxiety Counseling
Psychological Testing and Medication Management
Eating Disorder Treatment for Anorexia, Binge Eating Depression and Bulimia
Attention Issues, i.e., ADHD and Stress Management
Family, Couples, Relationship and Couples Therapy
Mood Disorder Treatment
Anger Management Therapy
Trauma, Grief and Life Transitions Counseling
The top mission of our practice here is to strengthen the foundation of every family, improving the inter-relationships within. Relationships need constant nourishment, but the issues that face each family are unique and complex. Not all families respond to the same therapy protocol. Count on us for a customized plan.
With a practice founded on a strong approach to commitment to the family, we are here to help you build and foster a life-long bond with each person in your family.
Call Family Counseling Associates now at 978-222-3121 for family counseling near North Andover MA.
Family Counseling Associates
Address: 12 Essex Street, Andover, MA 01810
Hours: Monday through Thursday from 9 a.m. to 6 p.m. and Friday 9 a.m. to 5 p.m.  
Contact: Phone 978-222-3121 / Fax 978-296-3460