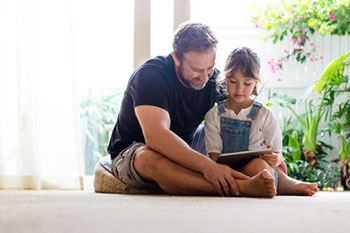 The school year is coming to an end, which marks the beginning of summer vacation. This can be a great time for family bonding, but it can also be stressful for parents. Check out these parenting tips for summer vacation, courtesy of Family Counseling Associates.
Keep Your Child on a Consistent Schedule
Children thrive with structure and routine. You may be tempted to let your children stay up late during the summer, but try to establish a set schedule. You can extend the bed time and wake-up time later than it is during the school year, but there still needs to be some consistency. This is also true for meals, bathing, brushing teeth, etc. Create a predictable routine to keep your child in a pleasant mood.
Encourage Learning and Physical Activities
Summer vacation isn't a time to watch TV and play video games all day. Sure, your child can enjoy leisure activities, but there should be a balance of education and physical play as well. Read books with your children at night, or get supplemental learning materials for them. There are plenty of flash cards, educational games, workbooks, computer programs, and other options you can turn to for education.
In terms of physical activities, consider signing your child up for a summer sport or swimming lessons. You could also look into summer camp, if your child is old enough to participate. If you are a member of a church, ask the church advisors about upcoming youth events. The possibilities are endless, and your child will benefit from the activity.
Plan Social Activities
Children learn many social skills while they're in school. Continue this learning during the summer by involving your child in social events. Some of the activities listed above may count as social engagements, but you can also have group play dates, slumber parties, trips to kid-friendly museums, and more. The goal is to keep your child exposed to other people so he or she continues to develop social skills.
Continue Attending Family Counseling
If you are seeing a family counselor, continue going to counseling sessions during the summer. You may have started seeing a counselor because your child was struggling in school, but that doesn't mean you should take a break when school's out. You can still build communication and strengthen bonds within the family, no matter what time of year it is.
If you would like to find a family counselor near you, contact Family Counseling Associates at (978) 222-3121.
Prepare for a School Schedule in Advance
When the school year approaches, prepare your child for the schedule change. Get on a school-like schedule at least a week in advance so your child knows when to wake up, when to go to bed, etc. If you have any struggles during the adjustment, they will happen before the first day of school. This will reduce stress for the whole household.