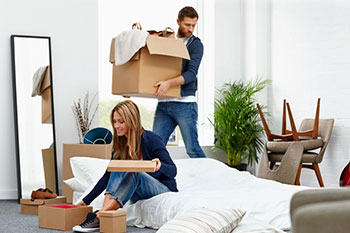 Moving to a new house or a new city can be exciting, but it also represents a major life change. As with any life transition, this experience can spark symptoms of anxiety. If you are preparing for a move or have already moved, these anxiety relief tips will help you through relocation. Read on to learn how to manage anxiety symptoms while moving.
Keep a To-Do List of Tasks
To-do lists are great for staying organized, especially when you have several tasks to remember. With the stress of moving, it's easy to forget small details that could cause big delays. Rather than leaving that to chance, write down tasks as you think of them. You can keep the list on your phone or on a sheet of paper in your purse/wallet so you always have it on hand.
Proactively Prepare
One of the best ways to control anxiety is to be prepared. When you feel prepared, you are less likely to stress about an experience. In the case of a move, this means getting as much done as possible before your actual moving day. Start the process right now. There are plenty of things you can do before you move to make the transition as smooth as possible. Here are some tasks to keep in mind:
Find out what your utility deposits are going to be, and schedule your utilities to turn on before you arrive.
If you are renting, get your keys from the landlord before your move-in day.
Pack as much as you can before your moving day. Use disposable dishes and eating utensils, if possible, so you can pack your dishes. Keep an empty box to place items you cannot pack until the day of.
Make sure your keys work ahead of time.
Label your moving boxes on all sides, and clearly indicate which room they go in. The people helping you move will be able to easily put the boxes in place, and unpacking will be easier for you later on.
Keep a spare phone charger in your vehicle. Your charger may be hard to access in the moment.
If you are painting or doing any home repairs, try to complete them before you move in. Then you can focus on settling in.
Take a Break When You Feel Overwhelmed
If the stress of the move feels overwhelming, take a break. Give yourself a few minutes to escape from the pressure and calm down. If you feel a panic attack starting, focus on your breathing. Breathe in for four seconds, hold your breath, and then breathe out for four seconds. Repeat this until you feel calmer and more in control.
Talk to Your Therapist about the Move
Your therapist can give you personalized advice on how to manage anxiety symptoms while moving. If you do not have a therapist, now is the perfect time to talk to one. With anxiety counseling, you can learn techniques that fit your lifestyle, personality and experiences.
For instance, you may benefit from journaling about your anxiety, or you may benefit from meditation. Your therapist may recommend seeing a psychiatrist to receive short-term or long-term anti-anxiety medicine. Whatever the circumstances may be, our professional team here at Family Counseling Associates would be happy to assist you. Give us a call at 978-222-3121 to schedule an appointment with an anxiety therapist near you.